Regular price
$37.00 USD
Sale price
$27.00 USD
Unit price
per
Sale
Sold out
Product Details

Starter pack includes:

1 x Catventure Cat Harness

1 x 1.5m Catventure Cat Leash - 100% Recycled Plastic Bottles

• Available in three colours (Black, Bone and Natural) and six sizes, XS (Kitten), S, M, L, XL & XXL.

• The Catventure leash is , lightweight, practical, durable and is suitable for use in all conditions. It features a 360 degree swivel clip, perfect for Cat Harness Training when you need to keep your cat close within your reach.

• We have opted using cotton as our main fabric for our harnesses. Cotton is a natural fibre, soft, breathable and can stand up against abrasion wear. It makes for an ideal fabric for a cat harness so your cat can stay super comfy all year round.

• Jacket style harness that fastens with high-strength velcro for around the neck and belly of your cat.

• A silver buckle is located on the mid-back of the harness to alleviate any pressure from the lead on your cat's neck.

• Designed with a focus on your cat feeling secure like they are being hugged.

• Designed to ensure flexibility in their shoulders to feel more confident on their walks.

• Escape-proof when fastened properly, as the cats can't wiggle their arms through the arm holes.
Materials

Black Harness

Outer: 100% Cotton dyed Black

Inner: 100% Undyed Cotton

Bone Harness

Outer: 50% Cotton, 50% Jute

Inner: 100% Undyed Cotton

Jute is a natural fiber like cotton, and it has breathable qualities. However, its structure is more rough and less soft than cotton. This roughness can create a more open weave, enhancing breathability. Like cotton, jute is naturally biodegradable and naturally moisture wicking. Purrfect for all kitty adventures, however for the kitties who love to play in water, the harness does take longer to dry than our 100% cotton harness (Black).

High Strength Velcro - reverse directions for neck and chest for extra protection

Thick Silver Zinc Alloy Metal D-Ring attached to a sturdy polyester spine on the centre of the harness for additional support.

Leash

Made from 100% Recycled Plastic Bottles and a Stainless Steel 360° Swivel Clip
Sizing Chart

Cat Harness Sizing Calculator

Size:

Cat Harness Sizing Chart

| | | |
| --- | --- | --- |
| Size      | Neck Circumference      | Chest Circumference |
| XS | 14 - 21cm | 18 - 28cm |
| S | 17 - 22cm | 29 - 37cm |
| M | 22 - 29cm | 34 - 41cm |
| L | 26 - 32cm | 38 - 48cm |
| XL | 29 - 36cm | 41 - 51cm |
| XXL | 32 - 38cm | 51 - 61cm |

How to size your cat for a harness:

To fit our Catventure Cat Harness, start by measuring your cat and comparing with our sizing chart below. Having the correct size will prevent the cat from escaping. Our velcro adjustable cat harness is easy to put on simple adjust the chest strap first then the neck strap with their front legs in between. Ensure it is a snug fit, not too tight and not too loose.

The easiest way to measure your cats neck and chest circumference is with a soft tape measure. If you do not have one, you can use a piece of string or fabric then measure it up against a ruler.

To fasten your cat harness properly, there should be only enough room for a finger gap between the cats body and the harness. Their elbows should not be able to wiggle out of it if there is only that minimal of space. Please evaluate inside your home before your big adventure! Test to make sure you have purchased the correct size and that if you were to try get your cats elbow to wiggle out, that this won't be possible.

Before you get started:

If your cat has never worn a cat harness or a cat collar it may be a slow transition for your kitty so please be patient. Let them sniff it, inspect it, encourage them with pats and treats. We also recommend the process inside the home as it is easier to put on. More detailed instructions and tips can be found on our blog post here.

When your harness arrives, leave the cat harness out for your cat to sniff and inspect, place the harness somewhere familiar without invading their safe spaces. Once your cat is comfortable and has lived with the harness in their space, we recommend trying on the harness inside the home. Let them walk around in it inside the home before attaching the leash and taking your cats outdoors.


To get your cat into the harness, hold your cat and encourage them with pats and slowly fit the belly band around their torso with a finger of space between their body and the cat harness. Keep giving your cat some nice chin scratches as they may feel a bit strange. Once you feel your cat is ready, secure the neck band on with a finger space of room between their neck and the harness.

Many cats will fall over when they first try a harness because it triggers a survival response. It also might be from having the harness too tight. Help them overcome this with highly attractive motivation (treats) and lots of praise. Don't be disheartened if your cat does not take to the harness instantly. If you rush into it too quickly they may get anxious. Remember small steps to achieving those big goals.
Care & Maintenance

Do not machine or hand wash

Surface clean with soapy water

Do not use abraisive cleaning products

Do not bleach

Do not wring, line dry

Do not iron

To ensure the velcro and fabric stay in good condition, use a lint roller after every use to eliminate as much hair as possible.

When you are finished with your catventure, ensure the velcro straps are fastened back together to protect velcro.
Packaging

When packing our orders, we use FSC certified (Forest Stewardship Council) Certified Managed Plantations tissue paper that is 100% biodegradable, compostable and acid-free.

When we ship your harness we use compostable mailers for all of our orders. Hero Packaging 'HEROPACKS' are made from mainly corn starch and PBAT (a compostable ingredient which bonds the renewable ingredients together). 

To date, Hero Packaging have saved over 16,000,000 plastic mailers from entering the planet and we are proud to be a part of that statistic!

We also use a direct thermal printer to print all of our shipping labels, meaning no ink or toner! Our labels are also compostable (including the adhesive being non-toxic, so safe for your pets to sniff!)

Our Hero Packaging Mailers have a reusable strip, so be sure when you unwrap your parcel to cut nicely along the dotted line in case of return, you can reuse the mailer bag.

For every order we include a set of Instructions as well as a Thank You Card. We use Canva for our print orders, meaning every order we place with Canva, they plant a tree – it is a simple idea with a big impact.

By the end of 2022, Canva will have planted 3.5 million trees in the ground, focusing on native restoration which mimics what a native forest would do. Tree planting sites are selected based on the degree of deforestation and poverty in the region. Canva is committed to working alongside local villages and communities to achieve a successful and longstanding reforestation effort. By creating jobs such as Planters and Site Managers Canva also help to generate social benefits for the local communities.

We are on a mission and committed to ensuring all aspects of your packaging is eco-friendly, compostable and carbon neutral. Dispatching parcels out to all of you and your cats is such a huge part of our business, so we want to do it as environmentally friendly as possible!

You can read more about what we are doing at Cat Harness Australia to improve in sustainability: https://catharnessaustralia.com.au/pages/sustainability
We Support WIRES & Local Rescue Groups

We put our money where our mouth is, meaning we donate $1 for every harness sold to WIRES for the good of the Australian native wildlife.

Every year, WIRES receives thousands of calls for advice concerning interactions between domestic pets and native animals. Sadly, this is a common cause of injury in suburban areas and if the injured native animal is not immediately taken to receive veterinary care, the consequences can be fatal. Luckily, there are some precautions that can be taken to help minimise the risks of wildlife being injured, and to avoid unpleasant situations for your family pet. WIRES strongly promotes responsible pet ownership which is key to a safer environment for wildlife and for domestic pets. You can learn more through the link here.  

WIRES have many initiatives including National Grants, Emergency funding, Landcare Alliance, Specialised projects (more recently Koalas and Native Animal Disease Research), Conservation projects and the Water for Wildlife initiative.

Through social media, there is even more visibility with the reality that cat rescue groups are facing. As a charity, cat rescue groups depend on community support to cover the costs of running the rescue. The costs include professional care and advisory staff; veterinary expenses including health checks, desexing and any necessary treatments or surgery; vaccinations; microchips; kitty litter as well as costs to promote their adoptions and welfare work plus administration costs.

Cat Harness Australia makes regular donations to a variety of cat rescue groups within Australia. We also exclusively wholesale to rescue groups and small businesses. By rescue groups having being a stockist of our products, their profit allows them fund the costs of their rescue.

If you are the owner of a licensed cat rescue group within Australia and you would like to become a stockist of our products, please reach out to us via the link here.
30 DAY SATISFACTION GUARANTEE

We hope you love your Cat Harness Australia purchases. However, if you're not entirely satisfied with your purchase, we're here to help you. Our 30 day satisfaction guarantee will have you purring. Translation: you can return your harness for a full refund of the purchase price if you're not fully satisfied.

Read more about our pawsome refund guarantee here.

Our Hero Packaging Mailers have a reusable strip, so be sure when you unwrap your parcel to cut nicely along the dotted line in case of return, you can reuse the mailer bag.

What happens to our exchange size harnesses?

Ever wondered when you exchange an item where does it go? We have made sure that if return shipping isn't a viable option that we put the trust in our customers to donate the incorrect size to a local cat rescue group. This recycling initiative helps make sure the barely-used cat harness is going to a good home and also encouraging future cat pawrents to walk their future fur babies. Once you have donated the harness onwards we will refund you your harness cost so you can place an order for the correct size.

If there are no local cat rescue groups near you, no worries! You can always return back to us at Cat Harness Australia HQ and we will do the donating on your behalf.

The current rescue group receiving our HQ returns are Kitten Sanctuary. If you are a rescue and would like to sign up to be apart of our harness donation program, please email us at hello@catharnessaustralia.com.au
Shipping & Delivery

We understand the stress of ordering online and not knowing when your package will arrive. Rest assured we will be dispatching all orders within 24-48 hours of being placed and provide you will full tracking details as well as open support for any queries you may have on when your order will arrive.

Order Dispatch:

We've formed a partnership with Avenue, a remarkable organisation that empowers people of all abilities to participate actively in the workforce. Avenue operates unique co-working spaces where its participants, known as Team Members, contribute to various micro-enterprises. These environments are thoughtfully designed to be inclusive and supportive, enabling individuals, regardless of their support needs, to engage in meaningful work tasks and earn remuneration.

One of these micro-enterprises is order fulfilment for businesses like ours. The Avenue Team Members work diligently to ensure your orders are dispatched promptly, typically within 24-48 hours of confirmation. This collaboration doesn't merely enhance our operations; it also creates opportunities for individuals with disabilities to develop valuable skills and contribute to their community.

Included in each order, you'll find an informational pamphlet detailing Avenue's mission, programs, and the profound impact they're making in the lives of their Team Members.

For custom embroidery orders, please allow for 2-3 weeks for fulfilment.

Shipping Times:

We ship with Australia Post from Sydney Metro.

For domestic orders, estimates on delivery can be found here.

For international orders, estimates for delivery can be found here.

Please note that our shipping times do not account for potential customs clearance delays. These are outside our control and can vary according to the destination country. 
Why does my cat fall over?

Most cats have never had any clothing placed on them and cats are more sensitive to tactile stimulus. When first wearing a cat harness, many cats do what we call the "Freeze & Flop" – They appear to be immobilised and lay on their side. Don't worry! They are not suffering any discomfort; many cats are actually purring while they do this. If your cat does the Freeze & Flop, simply give them some time to adjust and encourage them to move. With daily practice of 1-5 minutes, help them overcome this with highly attractive motivation (treats) and lots of praise. Most cats quickly learn that they can still move freely.
Share
The PURRFECT start to your new adventures for your Cat with our Catventure Starter Pack This bundle includes;
1 x Catventure Escape Proof Cat Harness - Black, Bone (darker beige)
1 x Catventure Cat Leash 1.5m Natural (Black and other coloured leashes sold separately)
At Cat Harness Australia, we believe in responsible cat owners. Our escape-proof cat harness, designed for and tested by Aussie domestic cats, ensures that your cat is as comfortable and secure as possible. Ideal for the Houdini cats of the world who can just about sneak their way out of any harness. Having your cat on a harness when outdoors minimises the impact of pet cats on native Australian wildlife. For more information on this issue please visit here.
Our cat harness size chart can be found below. It is important to purchase the correct sized harness for your cat to ensure it fits your cat snug and comfortably.
Guided by our mission, we are dedicated to working towards constantly improving our sustainability practices, we aim to have a positive impact on the environment. We are a small business, but we believe we can make a big difference. 
You can read more about what we are doing at Cat Harness Australia for sustainability here, we aren't there 100% but we are working towards a greener future.
On our blog you can find our answers to some of the big questions.
View full details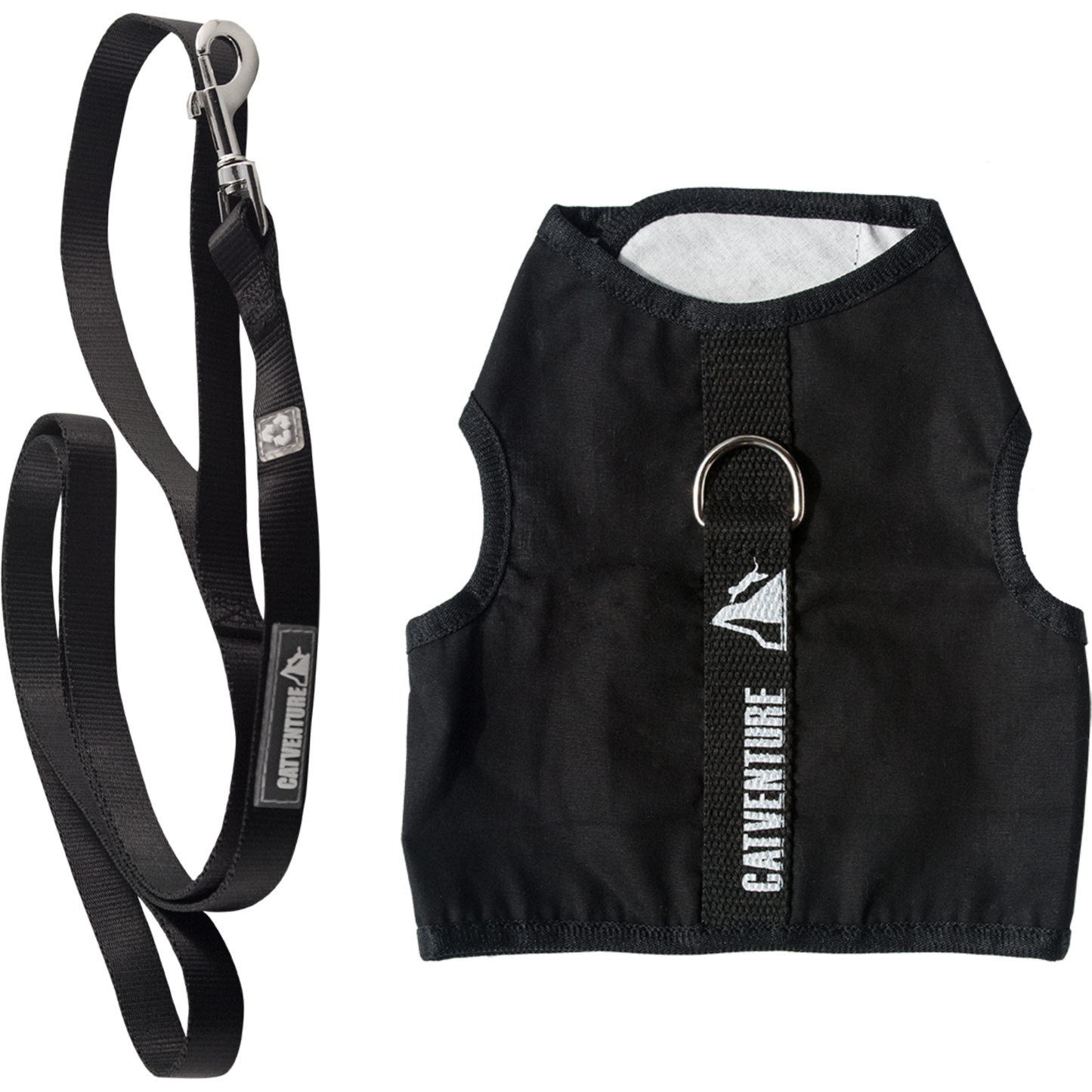 BUILDING HEALTHIER CATS AND COMMUNITIES
• Strengthen the bond between you & your cat
• Enhance your cats physical enrichment with leash walking
• Support your cats mental stimualtion being stimulated by the new sounds, smells and visuals
• By bonding with your cat, this also improves your mental wellbeing and self care
• Feel good knowing your purchase supports WIRES and Aussie Cat Rescue Groups
• Any harness exchanges for size are donated to local rescue groups
• Trust in our harness to keep your cat safe
• Protect the environment by keeping your cat safe indoors
• All harness orders come with a Free Beginners Harness Training Guide
• Our social community on Instagram is there to support you on your catventures
• Fast and responsive customer service to support you along the way
You can read more research on cats and their life stressors here
I have tried other harnesses and this one my cat is okay with. I can now walk my cat outdoor!
One less star as it does take a while to get my order and had to exchange which took awhile again but they did come through in the end and I am happy very happy with it
This harness is awesome!
This is working out fantastically well. My little boy is having the time of his life. Now he's got the best of both worlds - as an indoor cat he's safe, and he still gets to experience the joy of the outside world.
Great fun investment
My 5months kitten Maggie doesn't seem to mind about wearing her litte adventure vest. It only takes her 2 days to fully adopted the harness so we went for a walk . Very happy with this purchase .
Let customers speak for us