Regular price
Sale price
$16.00 USD
Unit price
per
Sale
Sold out
Product Details

1 x 1.5m Catventure Cat Leash - 100% Recycled Plastic Bottles

• The Catventure leash is lightweight, practical, durable and is suitable for use in all conditions. It features a 360 degree swivel clip, perfect for Cat Harness Training when you need to keep your cat close within your reach
Materials

Made from 100% Recycled Plastic Bottles and a Stainless Steel 360° Swivel Clip
Care & Maintenance

Do not machine or hand wash

Surface clean with soapy water - Do not wet metal clip

Do not use abraisive cleaning products

Do not bleach

Do not wring, line dry

Do not iron
Packaging

When packing our orders, we use FSC certified (Forest Stewardship Council) Certified Managed Plantations tissue paper that is 100% biodegradable, compostable and acid-free.

When we ship your harness we use compostable mailers for all of our orders. Hero Packaging 'HEROPACKS' are made from mainly corn starch and PBAT (a compostable ingredient which bonds the renewable ingredients together). 

To date, Hero Packaging have saved over 16,000,000 plastic mailers from entering the planet and we are proud to be a part of that statistic!

We also use a direct thermal printer to print all of our shipping labels, meaning no ink or toner! Our labels are also compostable (including the adhesive being non-toxic, so safe for your pets to sniff!)

Our Hero Packaging Mailers have a reusable strip, so be sure when you unwrap your parcel to cut nicely along the dotted line in case of return, you can reuse the mailer bag.

For every order we include a set of Instructions as well as a Thank You Card. We use Canva for our print orders, meaning every order we place with Canva, they plant a tree – it is a simple idea with a big impact.

By the end of 2022, Canva will have planted 3.5 million trees in the ground, focusing on native restoration which mimics what a native forest would do. Tree planting sites are selected based on the degree of deforestation and poverty in the region. Canva is committed to working alongside local villages and communities to achieve a successful and longstanding reforestation effort. By creating jobs such as Planters and Site Managers Canva also help to generate social benefits for the local communities.

We are on a mission and committed to ensuring all aspects of your packaging is eco-friendly, compostable and carbon neutral. Dispatching parcels out to all of you and your cats is such a huge part of our business, so we want to do it as environmentally friendly as possible!

You can read more about what we are doing at Cat Harness Australia to improve in sustainability: https://catharnessaustralia.com.au/pages/sustainability
We Support WIRES & Local Rescue Groups

We put our money where our mouth is, meaning we donate $1 for every harness sold to WIRES for the good of the Australian native wildlife.

Every year, WIRES receives thousands of calls for advice concerning interactions between domestic pets and native animals. Sadly, this is a common cause of injury in suburban areas and if the injured native animal is not immediately taken to receive veterinary care, the consequences can be fatal. Luckily, there are some precautions that can be taken to help minimise the risks of wildlife being injured, and to avoid unpleasant situations for your family pet. WIRES strongly promotes responsible pet ownership which is key to a safer environment for wildlife and for domestic pets. You can learn more through the link here.  

WIRES have many initiatives including National Grants, Emergency funding, Landcare Alliance, Specialised projects (more recently Koalas and Native Animal Disease Research), Conservation projects and the Water for Wildlife initiative.

Through social media, there is even more visibility with the reality that cat rescue groups are facing. As a charity, cat rescue groups depend on community support to cover the costs of running the rescue. The costs include professional care and advisory staff; veterinary expenses including health checks, desexing and any necessary treatments or surgery; vaccinations; microchips; kitty litter as well as costs to promote their adoptions and welfare work plus administration costs.

Cat Harness Australia makes regular donations to a variety of cat rescue groups within Australia. We also exclusively wholesale to rescue groups and small businesses. By rescue groups having being a stockist of our products, their profit allows them fund the costs of their rescue.

If you are the owner of a licensed cat rescue group within Australia and you would like to become a stockist of our products, please reach out to us via the link here.
Shipping & Returns

We understand the stress of ordering online and not knowing when your package will arrive. Rest assured we will be dispatching all orders within 24 hours of being placed and provide you will full tracking details as well as open support for any queries you may have on when your order will arrive.


Returns


We hope you love your Cat Harness Australia purchases. However, if you're not entirely satisfied with your purchase, we're here to help you.

For all shipping and deliveries information 

Our Hero Packaging Mailers have a reusable strip, so be sure when you unwrap your parcel to cut nicely along the dotted line in case of return, you can reuse the mailer bag.

What happens to our exchange size harnesses?

Ever wondered when you exchange an item where does it go? We have made sure that if return shipping isn't a viable option that we put the trust in our customers to donate the incorrect size to a local cat rescue group. This recycling initiative helps make sure the barely-used cat harness is going to a good home and also encouraging future cat pawrents to walk their future fur babies. Once you have donated the harness onwards we will refund you your harness cost so you can place an order for the correct size.

If there are no local cat rescue groups near you, no worries! You can always return back to us at Cat Harness Australia HQ and we will do the donating on your behalf.

The current rescue group receiving our HQ returns are Kitten Sanctuary. If you are a rescue and would like to sign up to be apart of our harness donation program, please email us at hello@catharnessaustralia.com.au
Share
ECO-FRIENDLY - The leash is made from recycled plastic bottles to help take positive steps towards re-purposing plastic pollution.
PRACTICAL – Suitable for rainy days and beach/puddle adventures, the recycled material allows for quick drying and the fabric won't warp out of shape once wet. This means leash is easy to clean with no chance of reshaping, stretching or wearing out when wet.
SIMPLE DESIGN – With simple and lightweight design, this classical and durable leash is super suitable for your small pets to go for a walk. The leash offers effective protection as well as effortless control and brings a new way of walking with your lovely companion. 
PURRFECT LENGTH: 1.5 metres long, this cat leash is a perfect choice to bring balance between freedom and control for your pet during daily walks. It fits many occasions, such as walking, running, or training, safely restraining your pet from getting too far away while giving your best friend enough freedom of movement to explore and discover her/his immediate environment
360 DEGREE SWIVEL CLIP: The cat leash features a solid 360° rotating swivel clip which enables quick and safe attachment to the harness. It is also tangle-free and allows your cat to move around freely with no worry about the leash getting twisted.
COMFORTABLE TO USE: Our cat leash boasts a lightweight and sturdy handle - different from your standard dog leash which can be too heavy. This is so you can get a comfortable and firm grip even during long walks for both you and your cat. Your fur-baby will stay safely within your safe and gentle control by maintaining a comfy connection between you and your pet while on the go or enjoying outdoor activities; Please give your cat some time to get familiar with the leash for the first time use
Guided by our mission, we are dedicated in working towards constantly improving our sustainability practices, we aim to have a positive impact on the environment. We are a small business, but we believe we can make a big difference. 

You can read more about what we are doing at Cat Harness Australia for sustainability here, we aren't there 100% but we are working towards a greener future.
On our blog you can find our answers to some of the big questions.
View full details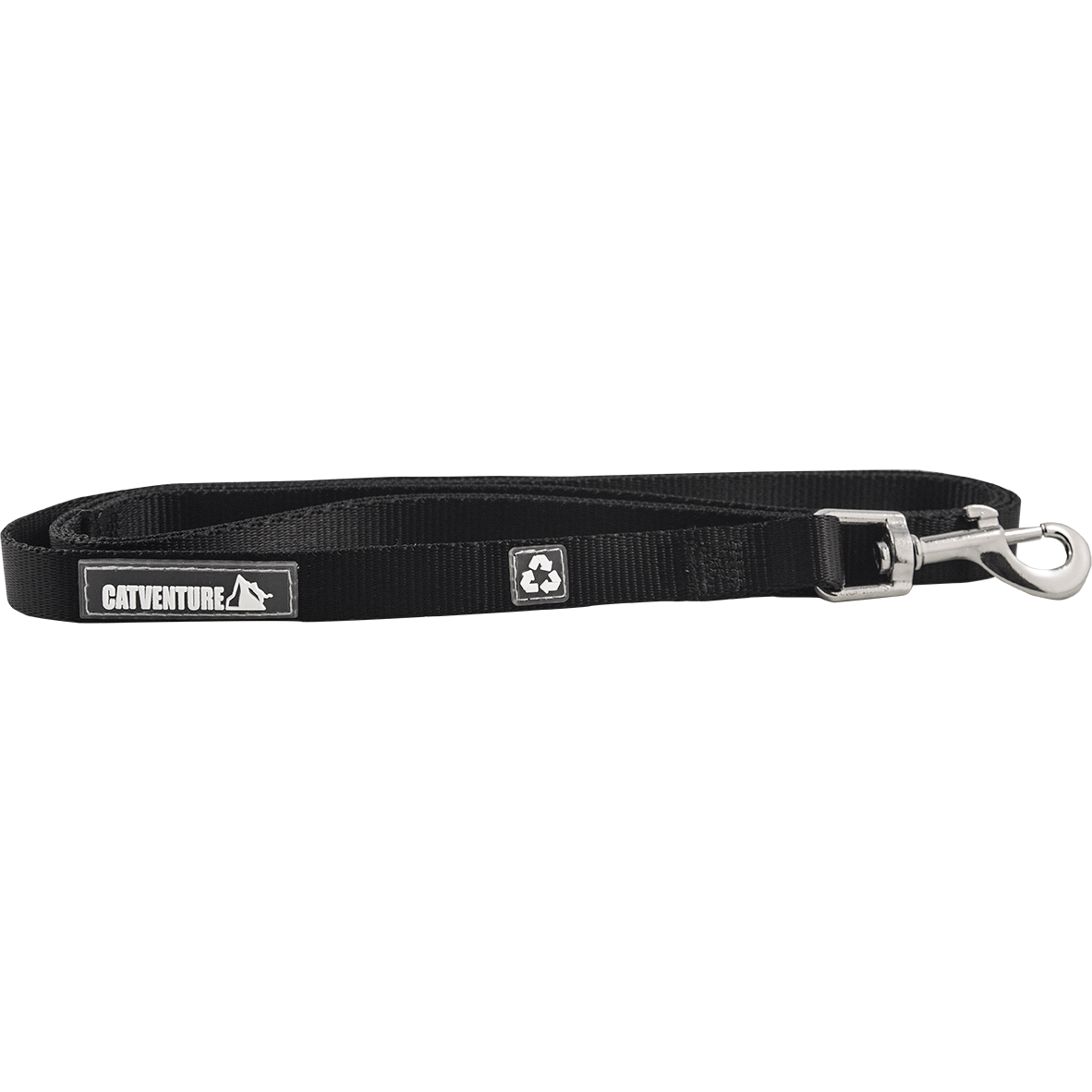 BUILDING HEALTHIER CATS AND COMMUNITIES
• Strengthen the bond between you & your cat
• Enhance your cats physical enrichment with leash walking
• Support your cats mental stimualtion being stimulated by the new sounds, smells and visuals
• By bonding with your cat, this also improves your mental wellbeing and self care
• Feel good knowing your purchase supports WIRES and Aussie Cat Rescue Groups
• Any harness exchanges for size are donated to local rescue groups
• Trust in our harness to keep your cat safe
• Protect the environment by keeping your cat safe indoors
• All harness orders come with a Free Beginners Harness Training Guide
• Our social community on Instagram is there to support you on your catventures
• Fast and responsive customer service to support you along the way
You can read more research on cats and their life stressors here
Clancy
I needed a safe, secure and comfortable harness for my Australian Mist cat Clancy. The Catventure Escape Proof Harness I purchased ticks all the boxes. I also purchased the Leash which is made of 100% recycled plastic bottles, it is light weight and smooth to touch. Clancy took to it slowly, the initial process took a couple of days, slowly introducing Clancy to it. Once fitted, Clancy became an instant quadraplegic, confused as to how to walk with the harness on lol..the next day he went from quad to paraplegic, walking with his front legs, dragging the back legs, then two days later it was all go in the house and now loves spending time with me in the garden. All I can say is Thank you to Catharnessaustralia for this fantastic product.
Love it
My boy Rex loves the jacket style. Right from the start he understood what it was for and looks very smart in it. Does not in any way hinder his activity outdoors. The leash is great but limited so I got a retractable one which offers more freedom to run around. I have recommended the harness to various friends etc. great stuff…
Seriously the best cat harness I've used. Most are just attached strappy ones that cats get out of too easy, but Catventure have fully enclosed harness that fits perfectly and feels comfortable for my cat. He doesn't even try to get it off 🙂 now we can go for more walks and explore more places!
Let customers speak for us